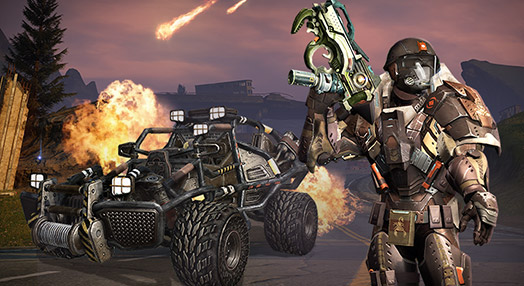 Unlock the true power of T.I.T.A.N. with this impressively lethal arsenal. Start out on the right foot and make your mark on the New Fronteir by wreaking havoc wherever you go.
INCLUDES:
1000 Arkforge*
Tradeable Legendary Jackpot Obliterator ("Titan's Fury" Synergy)* - New Weapon Type!
Synergy: Titan's Fury
[1] +5% Rate of Fire / -5% Reload
[2] +5% Damage / 50% chance on reload to Overcharge (Cooldown: 10s)

Tradeable "The Sentinel" Cyber Rig*: This rig comes fully stocked with epic and legendary chips (15 chips epic+, 1 guaranteed legendary) and has unique never before seen abilities:
[220] Increases damage as your health decreases. Max of +25% damage and 30s duration.
[170] Damage all enemies within 10m on armor plate break
[120]On shield break, regenerate 1 armor plate (Cooldown: 5s)
[70] +10% armor plate durability

HV-3C "Havoc" T.I.T.A.N. Outfit
HV-3C "Havoc" T.I.T.A.N. Headgear
"Havoc" Velociraptor Vehicle
"Havoc" Title
*Can only be claimed on one character.
This pack can be purchased multiple times.
Gameplay requires: (1) INTERNET CONNECTION (SOLD SEPARATELY), AND (2) ACCEPTANCE OF LICENSE AND USAGE TERMS. Provided on a commercially reasonable, "as is" and "as available" basis, without warranties or conditions of any kind. Trion Worlds does not ensure continuous or error-free access, use, or availability of any game content, feature, gameplay, or server and may change, modify, disable, suspend, or remove any such content, feature, gameplay, or server at its sole discretion.