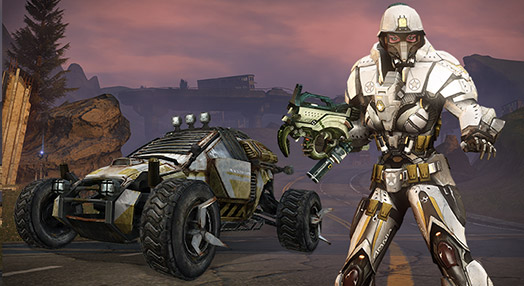 Just because the tech is advanced doesn't mean it can't make big booms too. This collection of T.I.T.A.N. tech provides Ark Hunters a much needed edge against the vicious mutants and Hellbugs that wander the New Frontier.
INCLUDES:
500 Arkforge*
Tradeable Legendary Jackpot Obliterator ("Titan's Fury" Synergy)* - New Weapon Type!
Synergy: Titan's Fury
[1] +5% Rate of Fire / -5% Reload
[2] +5% Damage / 50% chance on reload to Overcharge (Cooldown: 10s)

OT-22R Obliterator T.I.T.A.N. Outfit
OT-22R Obliterator T.I.T.A.N. Headgear
Duni Shetarru "Obliterator" Vehicle
"Obliterator" Title
*Can only be claimed on one character.
This pack can be purchased multiple times.
Gameplay requires: (1) INTERNET CONNECTION (SOLD SEPARATELY), AND (2) ACCEPTANCE OF LICENSE AND USAGE TERMS. Provided on a commercially reasonable, "as is" and "as available" basis, without warranties or conditions of any kind. Trion Worlds does not ensure continuous or error-free access, use, or availability of any game content, feature, gameplay, or server and may change, modify, disable, suspend, or remove any such content, feature, gameplay, or server at its sole discretion.